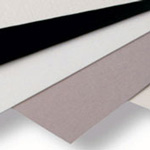 Rag means made of cotton. Solid Core means solid consistent color from top of mat all the way through the core without variation. Therefore the beveled window opening surrounding your art will have the same color as the mats surface.
Crescent & Bainbridge Rag Mat Solids are museum quality. Made from 100% pure cotton rag pulp which is naturally acid free and requires no treatment to render them archival. 4 ply (1/16")
Perfect for Fine Art Prints, Valuable Documents, Photography, Originals, High-End Limited Editions, Rare or Antique Documents.
Details

Item #
C2262L solid core rag