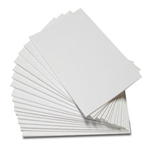 Mat BLANK
- Mat board cut down from a larger sheet to the outside dimensions of your backing material, glazing, or frame - ready for you to cut the window opening, or float mount (top mount) your artwork directly on top of the mat board.
Standard Quality Paper

- pH neutral papermat. The board has been treated to slow down the breakdown that naturally occurs with any wood pulp product. A pH neutral mat will enhance your artwork for a number of years, but eventually will fade and may cause acid stains where the mat touches the art - pH neutral mats are not archival, 4 ply (1/16").
Perfect for General Framing, Open Edition Reproductions, and Posters
Details

Item #
Standard blank C918