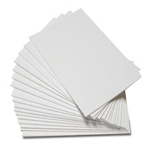 Mat BLANK
- Mat board cut down from a larger sheet to the outside dimensions of your backing material, glazing, or frame - ready for you to cut the window opening, or float mount (top mount) your artwork directly on top of the mat board.
6 PLY

- Extra thick mat (3/32")
Competes with Bainbridge's 'Top Mat' line. It's also a wise and affordable option to Artique brand 8-ply, and Bainbridge's 8-ply line. Creates a bold high-end looking presentation with stylish extra thick beveled edge. Made of 100% virgin alpha-cellulose, lignin and acid-free, fade and bleed-resistant; conservation-grade line ideal for any type of work.
Perfect for Fine Art Prints, Valuable Documents, Photography, Originals
Details

Item #
6 Ply blank C29500