Physical structure is an important part of the right frame for each project, but it is the vast variety of available styles that makes the visual aspect of choosing frames so interesting and fun. A frame may be rustic, formal, ornate, playful, or contemporary. The finish might be rough, smooth, gilded, or shiny. By combining and redesigning elements from centuries of history, and employing new finishing techniques, the variety of designs, colors, and finishes available in picture frames today covers a range from faithful historical reproductions to completely new creations.
Historic Styles of Frames
Over the centuries, different frame styles developed to suit the current fashion in art and furniture, especially furniture. Historically accurate reproductions are available, particularly to meet the needs of collectors and museums, but many of the frames available today are adaptations of classic styles, representing a combination of different historical elements on one frame.
Measuring Frames Properly
There are three sizes that can be discussed when measuring frames. There is the outside size, which is the outer dimension of the frame. There is the visual opening size, which is the opening of the frame when measured from its face. Finally, there is the rabbet size, which is the interior size of the frame when measured from the back, from one side wall of the frame to the opposite side wall. This interior area, including the side wall and the small ledge designed to hold the glass and other materials in the frame, is called the "rabbet." Both the rabbet width and the rabbet depth can be important when framing art and objects.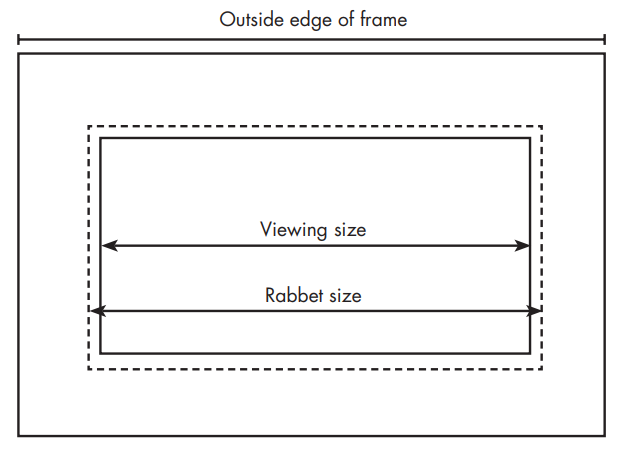 Materials that are installed in picture frames (such as wood, paper, and fabric) expand and contract with changes in heat and humidity. To accommodate these changes without causing wrinkled artwork or broken glass, picture frames are made with an "allowance". The allowance is usually 3 mm (⅛") (but sometimes less or more), providing comfortable space for the framing materials. This means that a so-called 8″ × 10″ (20.3 × 25.4 cm) frame, when measured tightly across the interior, is usually 8 ⅛" × 10 ⅛" (20.6 × 25.7 cm); it is made to hold artwork and glass that measure 8″ × 10″ (20.3 × 25.4 cm). Occasionally there is a small allowance or even no allowance, so every frame must be measured before the materials it will hold can be prepared.
Ready-Made Frames
Ready-made frames are just what they claim to be—pre-built picture frames ready to house artwork, mats, glass, and other framing materials. These frames have been readily available for decades in a limited range of styles and sizes, but in recent years the availability of ready-made frames has greatly expanded. The selection now available in hobby, craft, and home improvement stores, in catalogs, and online is extensive and includes a fine variety of styles and colors.
Ready-Made Frames Material
Ready-made frames are typically manufactured from wood, metal, composite resin, or plastic. The quality ranges from very cheap to almost professional, and everything in between.
It is sometimes possible to find raw wood ready-made frames to finish yourself with stain or paint. These are great for times when matching a color or furniture finish is really important, or for experimenting with faux finishes, such as marbling.
Does Ready-Made Frame Spoil the Fun Experience?
Some do-it-yourself framers think using ready-made frames spoils the fun. They enjoy the carpentry skills and equipment needed to cut and build quality frames, and they consider this an important part of framing. But for many of today's home framers, the ability to produce very attractive framed pictures using ready-made frames, without the need for a saw or workshop, is an essential part of the appeal.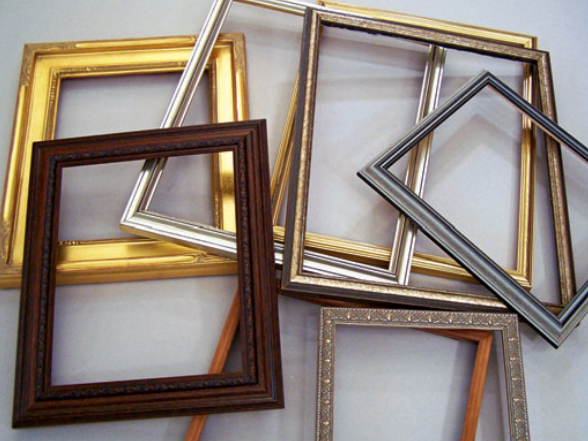 Quick Frames
These frames are ready-to-go units. They do not require any tasks that could really be called picture framing. Just open them up, pop the flat artwork inside (there isn't usually room for anything thick), and close them. They are almost always made in standard sizes.
Quick Photo Frames
Photo frames are made for common photo sizes such as 5″ × 7″ (12.7 × 17.8 cm) and 8″ × 10″ (20.3 × 25.4 cm). They come in a huge variety of styles and colors, including ornate traditional, sleek modern, playful, and even whimsical. They may be made of wood, metal, molded resin, plaster, plastic, glass, and other materials. Photo frames come with glass or plastic to protect the face of the art, and usually have an "easel back" with an extendable leg that allows the frame to stand on a table or other surface; depending on their construction, they may or may not be able to hang on a wall.
Plastic Box Frames
Plastic box frames have a cardboard insert that fits snugly into a five-sided clear plastic face; they hang from a nail in a wall. Clip frames hold the art between a sheet of glass or plastic and a firm backing board, all included in the package; they are made to hang. There are also complete framing packages available in a variety of sizes, even poster size, that include frame, mat, and glass—very fast and convenient.
Although these quick frames won't expand or exercise your picture framing skills, they have useful purposes and can be an important part of the design plan for room décor. An assortment of coordinated photo frames can be grouped on a tabletop or scattered throughout a large bookcase. Six plastic box frames lining a hallway or hung close together in a block arrangement make a simple, contemporary display that is great for areas where glass breakage might be a problem.
Standard Sizes in Picture Framing
Ready-made frames are generally available in a range of standard sizes, based primarily on standard photo sizes. The most popular sizes are 5″ × 7″ (12.7 × 17.8 cm), 8″ × 10″ (20.3 × 25.4 cm), 11″ × 14″ (27.9 × 35.6 cm), and 16″ × 20″ (40.6 × 50.8 cm). As discussed earlier, the size stated on the frame refers to the size of the glass and other materials it will hold; the rabbet size of the frame itself will be slightly larger, approximately ⅛" (3 mm) bigger in both length and width.
Standard Sizes
4×5, 4×6, 5×7, 6×8, 8×10, 8½×11, 9×12, 11×14, 12×16, 14×18, 16×20, 18×24, 20×24, 22×28, 24×30, 24×36, 26×32, 30×40, 32×40, 36×48, 40×48, 40×60 and 48×96.
Beyond the Rectangle
Ready-made frames come in other shapes besides the typical rectangle, including oval, circle, and octagon. Availability is limited to a few sizes and styles. Ovals are the most common shape, usually in standard sizes between 5″ × 7″ (12.7 × 17.8 cm) and 16″ × 20″ (40.6 × 50.8 cm). Even less common is the spandrel style: a circle or oval opening in a rectangular frame. A small assortment of special-purpose frames is also available, such as triangular frames for folded military flags, or square frames for scrapbook pages. If you are confused about selecting frames for your artwork, picture, or anything else, contact All Custom Framing Wholesale. Our experts will provide all the necessary information along with top-quality framing materials.